another online shop
March 24th, 2010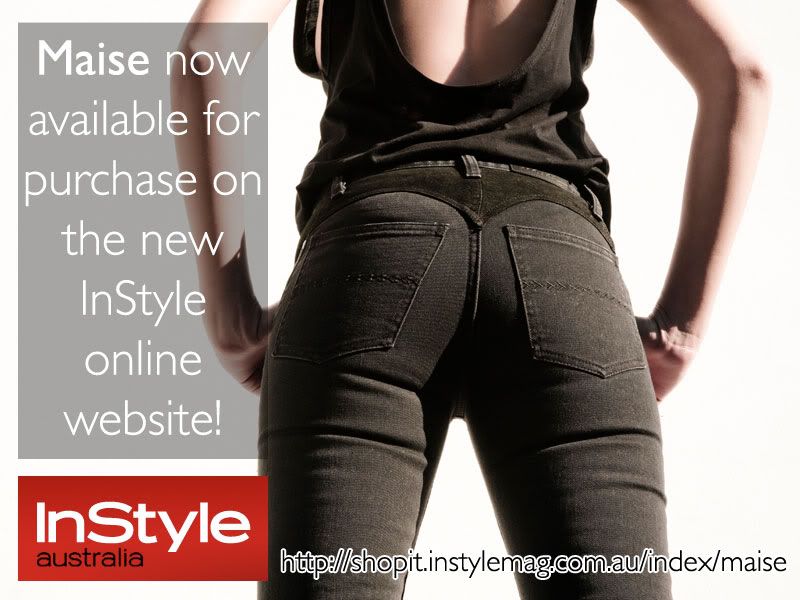 You can now also purchase Maise from the new Instyle online website.
http://shopit.instylemag.com.au/index/maise
MAISE WAREHOUSE SALE!
March 22nd, 2010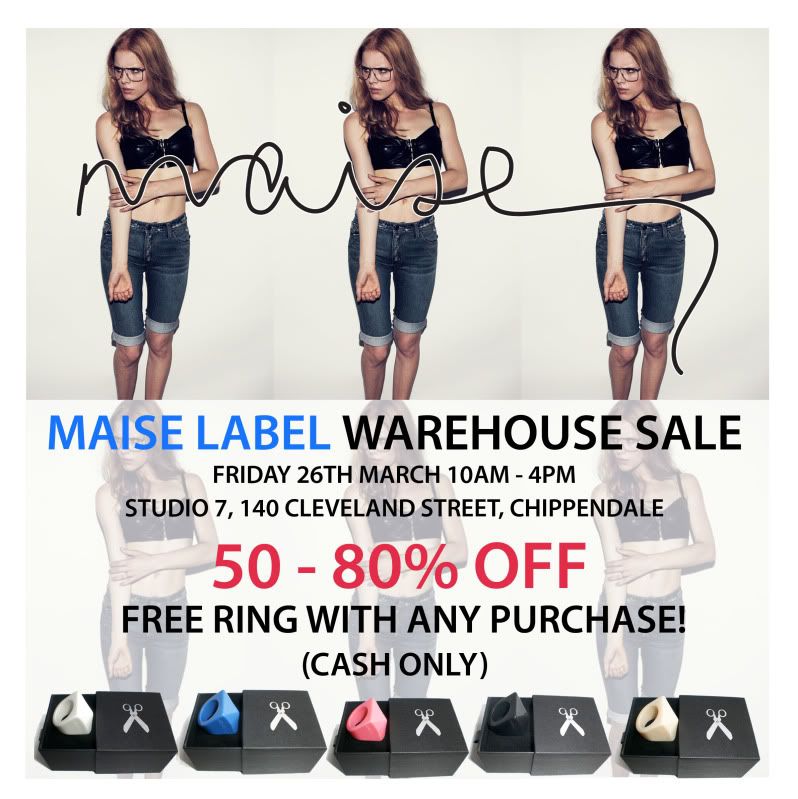 MAISE WAREHOUSE SALE! THIS FRIDAY 26TH AT 10AM!
50-80% OFF - FREE MAISE RING WITH EVERY PURCHASE.
1-DAY ONLY SO DON'T MISS OUT!
COME ALONG AND SAY HI! XX
Album Jeans
January 28th, 2010
Check out the new label Album Jeans.... It is from none other than yours truely
Album jeans from tim Tregoning on Vimeo.
WOULDN\'T MIND A HOLIDAY
January 28th, 2010
STAND UP TO THEM
January 28th, 2010
So I was scouring the international fashion shows of SS10 and found something quite amusing, Chloe has bought out there own version of the Maise Angel Jean from our SS09.... The Angel Jean was on the cover of WWD in the US... hard to miss
Even funnier, is that now Acne have bought out one as well... gold knee patches this time.
Can start a trend! Haa
Maise Angel Jean SS09
Chloe's Jean
Acne's Jean
Another
January 28th, 2010
Ok i'm red mad....... but it is so beautiful!
Want to be RED
January 28th, 2010
So I found this girl on www.garancedore.fr
Is it strange that I want to be her... well at least dye my hair red. 2 weeks... 2 weeks and I will be a red head.
DENIM CLEARANCE SALE - ON NOW
January 28th, 2010
SALE ... 50% OFF EVERTHING!!
January 7th, 2010
FOR THE MONTH OF JANUARY YOU CAN GET 50% OFF EVERYTHING!!
JUMP ONTO OUR ONLINE STORE BEFORE YOU MISS OUT ON YOUR FAVOURITE PIECES
HAPPY SHOPPING =]
NEW VITAMIN FLAVOURS
January 7th, 2010
The new water craze VITAMIN WATER has just release 3 new fabulus flavours!
SMARTWATER- more natural water that'll work for you!
VITAMINWATER10 - only 10 calories and naturally sweetened!
SYNC- a delicious berry tasting drink!
Can't get enough of it!